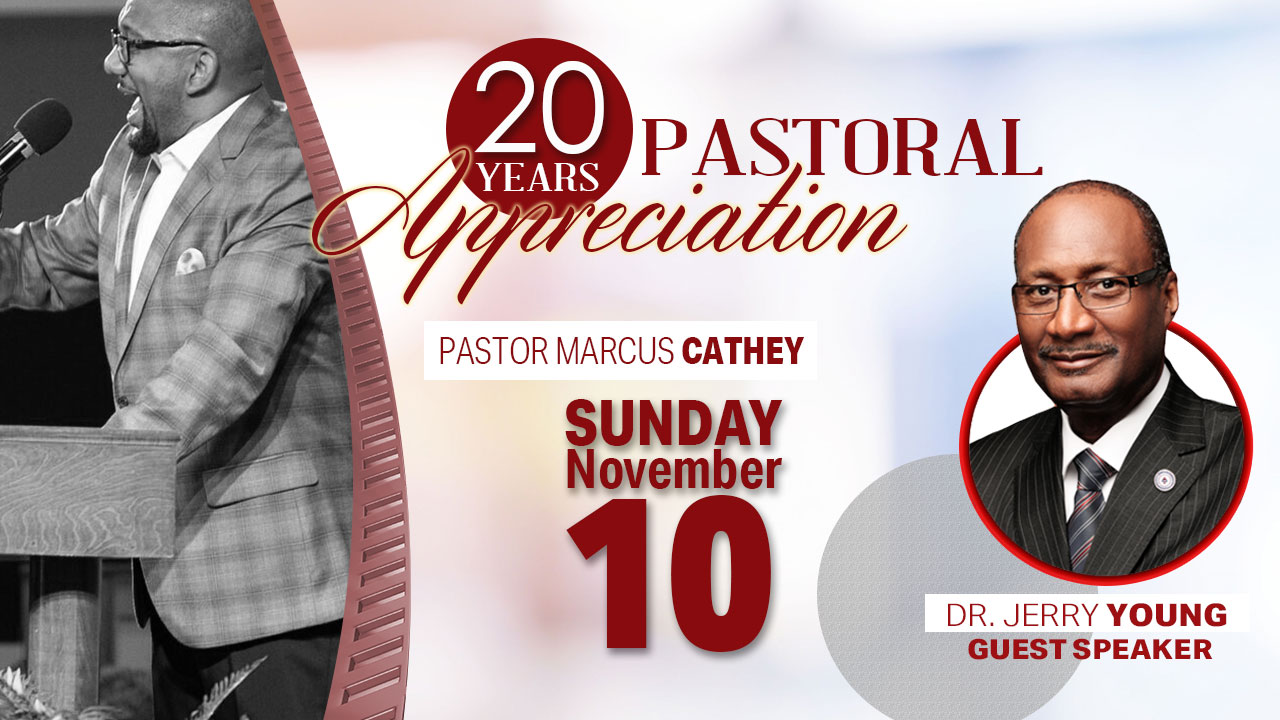 As the 20th Year Anniversary Committee, we are happy to share our plans for this momentous occasion for the visionary of West Point Church – Pastor Marcus Cathey – as this year, he celebrates 20 years as the Founder and Senior Pastor of West Point Church. And, we are taking this opportunity to honor him on Pastor Appreciation Day, Sunday, November 10th .
We don't often take the time to truly recognize this tremendous gift of God that we are privileged to call Pastor. In the words of his spiritual father and pastor Dr. Jerry Young regarding Pastor Cathey, "I am so grateful for my beloved son in whom I am well pleased who has done an outstanding job for the past 20 years. It is absolutely phenomenal….the West Point church is a living epistle of what happens when the Pastor and the people are committed to God's purpose." We couldn't agree more – there's no better pastor, preacher, teacher, husband, father and friend! Pastor Cathey's influence has made an eternal impact on each member and friend connected to West Point Family.
So we are celebrating this anointed gift of God in a very special way that we haven't been able to do in over 20 years Sunday, November 10. It is with overwhelming love and gratitude that we will receive a Pastor Appreciation love offering to bless Pastor Cathey for his faithful leadership and sacrificial service to us over the years.
Not only is this a milestone year in ministry for Pastor Cathey, it's also worthy to note the woman that has stood by his side for during his 20 years as pastor has well, Lady Marneshia Cathey. Lady Cathey, exemplifies what it means to put the need of others before herself as she selflessly give her husband to serve God's people. Lady Cathey hold dear the sanctity of marriage and celebrate Christian family values. It is only fitting for us to honor her as we've planned a beautiful tribute to her during our morning worship service on Sunday November 3rd .
Of course, we wanted to give our West Point family and friends a means of participating in this exceptional event with us! You may consider more than $100 as an love gift, given the Catheys' contribution to your life. Others may find a $50 or $25 gift more appropriate. The size of the gift is less important than your encouragement in expressing your appreciation for what God has done in your life through the ministry of Pastor Marcus Cathey.
So please take a moment and express your appreciation for every time Pastor Cathey has ministered a comforting word to you, for every prayer he's ever prayed that you did or didn't know anything about, and for the privilege of receiving from one of God's great generals of this generation. Review your giving options and select one.
We trust that Pastor Cathey has been an extraordinary blessing to you, and we are pleased to give you this opportunity to express your love for them as part of our celebration of them starting this Sunday.
God Bless You!
The 20th Year Anniversary Committee
---